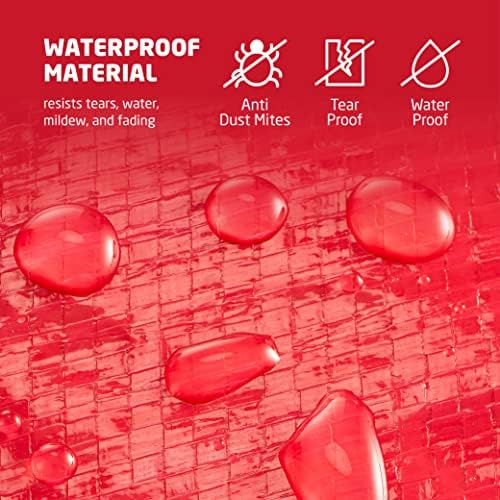 Zober Underbed Gift Wrap Organizer Review: Keep Your Wrapping Supplies Neat and Tidy
If you're tired of rummaging through piles of gift wrap and struggling to find the right supplies each time you need to wrap a present, the Zober Underbed Gift Wrap Organizer is here to help. This functional and spacious organizer allows you to store your gift wrap, ribbons, bows, and other wrapping essentials neatly under your bed, keeping them easily accessible and protected from dust and damage.
Design and Features
The Zober Underbed Gift Wrap Organizer is designed with functionality in mind. It features a sleek and compact design that fits perfectly under most beds, utilizing otherwise wasted space. Made from durable and high-quality materials, this organizer is built to last and withstand the test of time.
One of the standout features of this organizer is its multiple compartments. It comes with multiple pockets and loops for secure storage of wrapping paper rolls, ensuring they stay in place and don't unroll. The pockets are also perfect for storing ribbons, bows, tape, scissors, and other accessories, keeping everything you need in one convenient location.
The clear zippered top of the organizer allows for easy visibility of the contents, so you can quickly locate the wrapping paper or supplies you need without having to dig through the entire organizer. The sturdy handles on the sides make it easy to pull out and slide back under the bed, providing hassle-free access whenever you need it.
Capacity and Organization
Don't let the slim design fool you – the Zober Underbed Gift Wrap Organizer can accommodate a surprising amount of gift wrap and accessories. With its ample dimensions of 40.2″ x 17.7″ x 4.7″, it can hold up to 16 rolls of wrapping paper, depending on their thickness. The additional side pockets provide more space for smaller supplies, allowing you to keep everything organized and within reach.
The clear pockets enable you to see the contents at a glance, eliminating the need to sift through the organizer to find what you're looking for. This saves valuable time and ensures that your wrapping supplies remain in excellent condition, free from creases, tears, or other damage.
Quality and Durability
When it comes to storing your precious gift wrap, you want a storage solution that will keep it safe and intact. The Zober Underbed Gift Wrap Organizer is crafted from durable materials that are designed to protect your wrapping supplies from dust, moisture, and potential damage.
The sturdy construction and reinforced seams ensure that the organizer can withstand frequent use and handling without falling apart. The zippers are robust and glide smoothly, allowing for effortless opening and closing. You can trust that this organizer will keep your wrapping paper in pristine condition, ready to be used whenever you need it.
Convenient and Space-Saving Storage
If you have limited storage space in your home, the Zober Underbed Gift Wrap Organizer is a game-changer. By utilizing the often overlooked area under your bed, this organizer allows you to store your gift wrap and supplies without cluttering up your closets or cabinets.
Gone are the days of shuffling through crumpled rolls of gift wrap in a crowded closet or struggling to find a specific ribbon or bow. With this organizer, everything is neatly stored and easily accessible, giving you more space and less stress.
Versatility and Beyond
The Zober Underbed Gift Wrap Organizer may be specifically designed for gift wrap storage, but its versatility goes beyond that. The multiple pockets and compartments can also be used for storing other items, such as scrapbooking materials, fabric rolls, or even clothes and shoes. The possibilities are endless, making this organizer a valuable addition to any home or craft room.
Easy to Clean and Maintain
Accidents happen, and sometimes even the most careful handling can result in spills or stains. The good news is that the Zober Underbed Gift Wrap Organizer is easy to clean and maintain. Simply wipe any spills or dirt off the surface with a damp cloth, and the organizer will look as good as new.
The durable materials used in its construction are also resistant to tears, ensuring that the organizer remains intact and functional for years to come. Say goodbye to flimsy and easily damaged storage solutions – this organizer is built to withstand the rigors of everyday use.
Customer Satisfaction
Customers who have purchased and used the Zober Underbed Gift Wrap Organizer rave about its functionality and quality. Many appreciate how it helps them keep their wrapping supplies organized and easily accessible, saving them time and effort. The durable construction and ample storage capacity are also highly praised by users.
One satisfied customer stated, "I love this gift wrap organizer! It holds all my wrapping paper rolls and keeps them in perfect condition. The side pockets are great for storing ribbons, tape, and other accessories. I highly recommend this organizer to anyone who loves to wrap gifts."
Another happy customer shared, "This underbed gift wrap organizer has been a game-changer for me. I used to have rolls of gift wrap scattered all over my closet, but now everything is neatly stored and easy to find. The quality is excellent, and I appreciate the clear top that allows me to see what's inside without opening it."
In Summary
The Zober Underbed Gift Wrap Organizer is a must-have for anyone who loves wrapping gifts and wants to keep their supplies neatly organized. With its functional design, ample storage capacity, and durable construction, this organizer provides a convenient and space-saving solution for storing your gift wrap, ribbons, bows, and other accessories.
Say goodbye to cluttered closets and frustrating searches for the right wrapping paper. Invest in the Zober Underbed Gift Wrap Organizer and enjoy the ease and efficiency it brings to your gift wrapping routine.
About Author