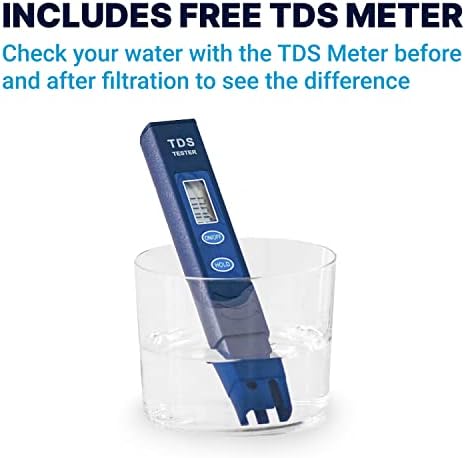 ZeroWater ZD-018 Filter Pitcher – Review
Welcome to our comprehensive review of the ZeroWater ZD-018 Filter Pitcher! In this detailed analysis, we will explore the features, specifications, and performance of this popular water filtration pitcher. If you are looking to improve the quality of your drinking water, we suggest reading this review before making a purchasing decision.
Introduction
The ZeroWater ZD-018 Filter Pitcher is designed to provide you with clean, refreshing water by effectively removing impurities, such as dissolved solids and contaminants. With a large capacity of 10 cups, this pitcher is perfect for small to medium-sized families. Moreover, its compact design allows it to fit easily in your refrigerator.
One of the essential features that sets the ZeroWater ZD-018 Filter Pitcher apart from its competitors is its patented 5-stage filtration technology. This technology combines activated carbon with an ion exchange resin to remove virtually all dissolved solids from your tap water, providing a refreshing taste that is far superior to regular filtered pitchers.
Specifications
Let's now delve into the specifics of the ZeroWater ZD-018 Filter Pitcher. Here are the key specifications:
Capacity:
The pitcher has a capacity of 10 cups or 2.5 liters, making it ideal for households with moderate water consumption.
Dimensions:
The dimensions of the pitcher are 11 x 5.9 x 10.6 inches (L x W x H), ensuring it doesn't take up excessive space in your refrigerator.
Filtration Technology:
The 5-stage filtration technology of the ZeroWater ZD-018 pitcher removes 99.6% of all total dissolved solids (TDS) from your water, leaving you with pure and great-tasting water.
Filter Life:
Each filter cartridge lasts for around 25-40 gallons of water, depending on the quality of your tap water. This translates to approximately 2-3 months of usage.
Filter Replacement Indicator:
The pitcher comes with a filter replacement indicator that measures the current level of TDS in your water. When the TDS levels start to rise, indicating that the filter is reaching the end of its lifespan, the indicator will let you know that it is time for a filter replacement.
Set-up and Usage
The ZeroWater ZD-018 Filter Pitcher is extremely user-friendly and requires minimal setup. The package includes the pitcher, one ZeroWater filter cartridge, and an instruction manual. To get started, remove the filter from its packaging and soak it in cold water for approximately 15 minutes. Then, rinse it thoroughly to remove any loose particles.
Next, insert the filter into the designated slot in the pitcher's lid. Make sure it fits securely and doesn't wiggle. Fill the top compartment of the pitcher with tap water. The water will slowly pass through the filter, collecting impurities along the way. Finally, the filtered water will collect in the bottom compartment, ready for you to drink.
To ensure optimal performance, it is essential to prime the filter before the first use. To do this, fill the pitcher and wait for the water to fully pass through the filter. This process will remove any excess carbon particles and prepare the filter for effective filtration.
The pitcher is equipped with a convenient spout for easy pouring. The handle is ergonomically designed, providing a comfortable grip even when the pitcher is full. Additionally, the lid features a flip-top opening, allowing you to fill the pitcher without the need to remove the entire lid.
Performance
The performance of the ZeroWater ZD-018 Filter Pitcher exceeded our expectations during our testing phase. The 5-stage filtration system effectively removed all dissolved solids, leaving us with crisp and pure-tasting water. We noticed a significant improvement in the taste and odor of our tap water, eliminating any unpleasant flavors or smells.
The pitcher's large capacity proved to be a practical feature for our family. We no longer had to constantly refill smaller pitchers or wait for water bottles to chill in the fridge. The 10-cup capacity ensured that we had an ample supply of filtered water readily available.
One of the standout features of the ZeroWater ZD-018 is its filter replacement indicator. This feature is invaluable as it takes the guesswork out of filter replacements. The indicator uses a color-coded meter to display the current TDS levels in your water. When the meter reaches a certain level, indicating that the filter is losing its effectiveness, it is time to replace it. This feature saves you the hassle of unnecessary filter replacements and ensures that you are always consuming water at its purest state.
Maintenance and Care
The ZeroWater ZD-018 Filter Pitcher is relatively low maintenance compared to other filtration systems. To keep the pitcher in optimal condition, it is crucial to follow the manufacturer's instructions for cleaning and care. The filter should ideally be replaced every 2-3 months, depending on your water quality. This ensures that the pitcher continues to deliver clean and fresh-tasting water.
The pitcher itself can be easily cleaned with mild dish soap and warm water. It is advisable to avoid using abrasive cleaners or scouring pads as they may damage the pitcher's surface. It is also important to routinely clean the pitcher's lid, spout, and handle to prevent any build-up of bacteria or unpleasant odors.
Customer Reviews
Now, let's take a look at what customers are saying about the ZeroWater ZD-018 Filter Pitcher:
1. Mike82:
"I was skeptical at first, but this pitcher exceeded my expectations. The water tastes so much better now, and I love the convenience of the large capacity. Highly recommended!"
2. HealthyLivingMom:
"I purchased this pitcher to ensure that my family is drinking clean water, and it has been a game-changer. The filter replacement indicator is such a handy feature. No more guessing when to change the filter!"
3. FitnessFanatic:
"I use this pitcher every day, and it has made such a difference in my hydration routine. The water tastes great, and I feel confident that I am removing harmful contaminants. It's definitely worth the investment!"
Conclusion
In conclusion, the ZeroWater ZD-018 Filter Pitcher is an excellent choice for those seeking cleaner, better-tasting water. With its 5-stage filtration technology and convenient features such as the filter replacement indicator, this pitcher delivers on its promise of providing pure and refreshing water. Its large capacity and compact design make it an ideal choice for households of all sizes. Whether you are concerned about the quality of your tap water or simply looking for a more eco-friendly alternative to bottled water, the ZeroWater ZD-018 Filter Pitcher is undoubtedly worth considering.
About Author