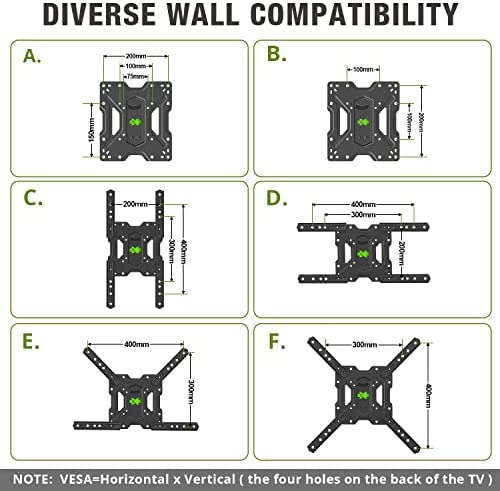 USX Mount XMM006: A Review of its Articulating Features
Introduction
The USX Mount XMM006 is an articulating TV wall mount that supports 26-55 inch TVs up to 66lbs. Its sturdy design and easy installation process make it a popular choice for those looking for a reliable and adjustable wall mount.
Design and Features
The XMM006 features a durable steel frame that ensures the TV mount remains stable despite the position or angle it is tilted to. The frame also has a black powder coat finish that gives it a sleek and modern look, ensuring it complements the aesthetic of any room.
Articulating Arm
The USX XMM006 has an articulating arm that allows it to be extended up to 15.2 inches from the wall. This feature makes it possible to adjust the TV's viewing angle to ensure optimal viewing pleasure. The tilting angle of up to 15 degrees and swivel angle of up to 180 degrees provide extra flexibility for positioning.
Easy to Install
The USX XMM006 is an amazingly easy to install TV mount. The mount comes with a user manual and all the necessary hardware for an effortless installation process. It is also VESA compatible, which is an industry-standard measurement that ensures you can mount your TV safely and securely.
Compatibility
The USX XMM006 is compatible with most 26-55 inches TVs. It has a maximum weight capacity of 66lbs which covers most TVs within the stipulated size range. The mount is also compatible with VESA patterns of 75x75mm, 100x100mm, 200x100mm, 200x200mm, 300x200mm, 300x300mm, 400x200mm, 400x300mm, and 400x400mm.
Installation
The installation of the USX XMM006 wall mount is possible within minutes of unboxing the packaging. The entire installation process is doable by one person, but it's always better to have someone assist you.
Step-by-Step Process
1. Start by locating the studs in the wall using a stud finder2. Place and align the wall plate against the wall, and drill pilot holes in the previously located studs3. Screw the wall plate to the wall using wall anchors4. Attach the mounting bracket to the back of your TV using the included screws5. Lift your TV gently and hang it on the mounting bracket6. Adjust the viewing angle of your TV to your preference
Benefits
The USX XMM006 comes with numerous benefits, some of them are:
Flexibility
The mounting arm of the XMM006 extends up to 15.2 inches and tilts up to 15 degrees. This provides flexibility in setting your desired TV viewing angle. The arm also swivels up to 180 degrees and can be adjusted in any direction.
Improved Viewability
By extending the TV away from the wall and adjusting the angle, you can improve your viewing experience. You can enjoy your favorite TV show, movie, or game from anywhere in the room, giving you a more dynamic entertainment experience.
Space Saving
With this wall mount, you can bring your TV closer to the wall when not in use, providing additional floor space. This feature is particularly useful for smaller rooms where wall space is precious.
Conclusion
The USX Mount XMM006 is an excellent TV wall mount that guarantees convenience in viewing your TV. Its articulating arm feature, ease of installation, and compatibility with most TVs make it a popular choice for those looking for a reliable and adjustable wall mount. Additionally, it comes at a competitive price, making it an affordable option for most.