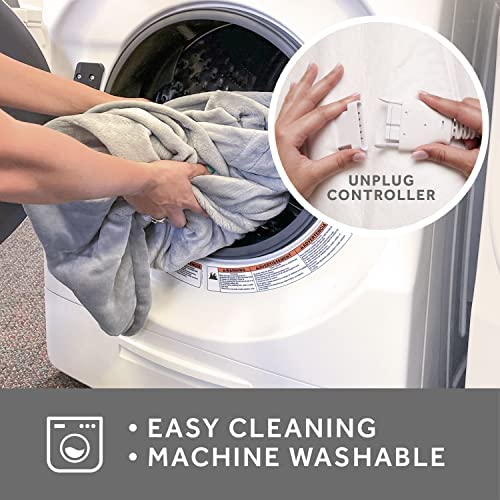 Sunbeam Heated Mattress Pad Review
Introduction
When it comes to getting a good night's sleep, few things matter more than having a comfortable bed. Yet, as winter sets in and the temperatures drop, keeping warm can become a challenge. That's where the Sunbeam Heated Mattress Pad comes in. With five different heat settings, this pad can help you regulate your body temperature to ensure a restful night's sleep, even on the coldest winter nights.
Benefits
One of the biggest advantages of the Sunbeam Heated Mattress Pad is the fact that it's customizable to your individual preferences. With five different heat settings to choose from, you can find the perfect level of warmth to keep you comfortable throughout the night. This means you won't have to waste energy heating your entire bedroom to a high temperature, which can be an expensive proposition.
The pad also has a fairly quick heat-up time. You won't have to wait hours for it to reach a comfortable temperature. Whether you just want to warm up your bed before jumping in or you need a long-term source of heat throughout the night, this pad delivers.
Features
The Sunbeam Heated Mattress Pad has several features that make it stand out from other heating solutions. For starters, it has a unique SleekSet design that includes a digital display and easy-to-use controls. This allows you to adjust the heat settings as needed without having to fumble around with wires or cords.
Furthermore, the pad is made from a soft, quilted fabric that is comfortable to sleep on. Unlike traditional electric blankets, you won't have to worry about feeling any wires or hard areas. The pad itself is very thin and pliable, making it easy to fit on top of your mattress.
Pros and Cons
Pros
Five different heat settings provide customizable comfort
SleekSet design is easy to use
Quick heat-up time
Soft, quilted fabric is comfortable to sleep on
The thin and pliable pad fits easily on your mattress
Cons
The pad can be prone to slipping around on the mattress if not fitted properly
The controls are fairly basic and may not be as intuitive as some users would like
The pad may produce a slight humming noise when in use
Some users may not like the sensation of sleeping on a heated surface
The pad requires an electrical outlet to function
How to Use the Pad
Using the Sunbeam Heated Mattress Pad is fairly straightforward. Simply lay the pad on top of your mattress like you would a fitted sheet. Make sure it is properly aligned with your bed and that all of the cords are tucked under the mattress to avoid any tangling or tripping hazards.
Next, plug the pad into an electrical outlet and turn it on using the SleekSet controls. You can then adjust the heat settings as desired and allow the pad to warm up. Once it reaches your desired temperature, you can climb into bed and enjoy a cozy and comfortable night's sleep.
Other Considerations
When purchasing a Sunbeam Heated Mattress Pad, it's important to choose the right size for your bed. The pad is available in sizes ranging from Twin to King, with corresponding measurements for each option. Be sure to measure your mattress before making a purchase to ensure you select the right size.
You should also take care to properly care for your heated mattress pad. Be sure to follow the manufacturer's instructions for cleaning and storing it to ensure it lasts for as long as possible. You may also want to consider investing in a mattress protector to help keep your pad in good shape over time.
Conclusion
Overall, the Sunbeam Heated Mattress Pad is a valuable investment for anyone looking to stay warm and cozy throughout the winter months. With customizable heat settings and a comfortable, quilted design, it's easy to get the restful sleep you need, regardless of the weather outside. Just be sure to properly maintain it and choose the right size for your bed to make the most of this useful and versatile product.
About Author