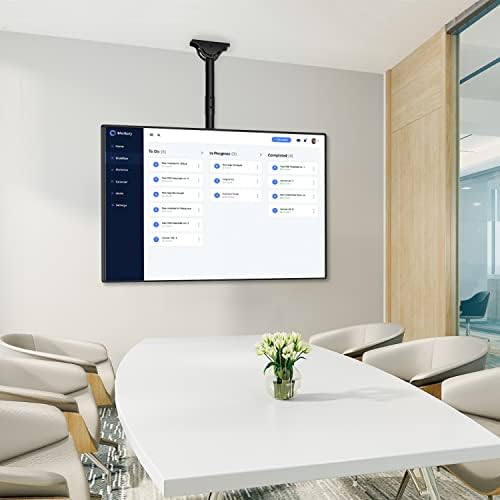 Review: WALI Ceiling TV Mount
Introduction
The WALI Ceiling TV Mount is a versatile and adjustable mounting solution designed to provide a convenient way to securely mount your television from the ceiling. With its strong build and flexible features, this TV mount offers a dependable and space-saving solution for any room.
Installation
Setting up the WALI Ceiling TV Mount is a breeze. The package includes all the necessary hardware along with clear instructions. The installation process is straightforward and can be completed in a relatively short amount of time, even for those who are not experienced in mounting TVs.
One of the standout features of this mount is its adjustable design. With a 400x400mm VESA compatibility, it can accommodate a wide range of TV sizes and weights, making it suitable for different brands and models. The adjustable height feature allows you to position the TV at the perfect viewing angle for your specific needs, ensuring optimal comfort while watching movies or TV shows.
Build Quality
The build quality of the WALI Ceiling TV Mount is excellent. It is made from durable materials that can withstand the weight of heavy TVs without any issues. The bracket feels sturdy and secure, providing peace of mind that your TV is safe and well-supported.
The powder-coated finish adds a touch of elegance to the mount while also protecting it from scratches and corrosion. The sleek design seamlessly blends with any interior décor, adding a touch of sophistication to your living space.
Flexibility and Adjustability
The WALI Ceiling TV Mount offers a remarkable level of flexibility and adjustability. Its swivel and tilt mechanisms allow you to find the perfect viewing angle, whether you're watching TV from the couch or bed. The 360-degree rotation feature lets you adjust the TV to face any part of the room, making it suitable for open-space living areas or business settings.
The adjustable height feature is particularly useful if you have a high ceiling or need to position the TV at a specific height for accessibility reasons. With the ability to extend up to 24 inches, this mount caters to a wide range of requirements.
Sturdiness and Stability
When it comes to mounting a TV, stability is of utmost importance. The WALI Ceiling TV Mount delivers excellent stability, ensuring that your TV remains safely secured to the ceiling. The solid construction and robust design of this mount guarantee that your TV will not sway or wobble, even when adjusting the angle or rotating it.
This mount also comes equipped with a lockable mechanism that allows you to fix the TV in place, preventing any accidental movements. This feature is especially beneficial if you live in an area prone to vibrations, such as near a busy street or construction site, as it keeps your TV steady and secure.
Compatibility and Versatility
The WALI Ceiling TV Mount is compatible with various TV brands and models. Its VESA compatibility ensures that it can support TVs with VESA patterns within the 400x400mm range. Whether you have an LED, LCD, or OLED TV, this mount is designed to accommodate a wide range of TV types and sizes.
Moreover, this mount is not limited to home use. It can also be utilized in commercial settings, such as offices, waiting rooms, or conference rooms. The ability to rotate the TV 360 degrees allows for efficient audience engagement during presentations or meetings.
Pros and Cons
Pros
1. Easy installation process with clear instructions
2. Adjustable height and tilt features for optimal viewing angles
3. Sturdy and durable build quality
4. Sleek and elegant design
5. Compatibility with a wide range of TV sizes and brands
6. Lockable mechanism for added stability
7. Suitable for both home and commercial use
Cons
1. Cable management could be more efficient
2. Requires additional ceiling attachments for certain types of ceilings
3. Not suitable for angled ceilings
Conclusion
The WALI Ceiling TV Mount provides an impressive and reliable mounting solution for your television. With its adjustable height, tilt, and swivel features, this mount offers a customizable viewing experience that ensures optimal comfort and convenience. Its sturdy build and stylish design make it a great addition to any room.
Whether you want to mount your TV in the living room, bedroom, or office, the WALI Ceiling TV Mount delivers on both functionality and aesthetics. It is a versatile and durable option that guarantees the safety and stability of your TV.
Overall, the WALI Ceiling TV Mount is a well-designed and reliable choice that offers exceptional value for its price. It is a worthwhile investment for anyone seeking a secure and flexible solution for mounting their television from the ceiling.
About Author