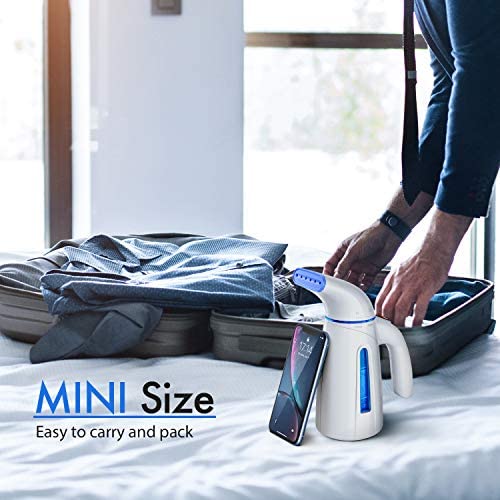 OGHom Steamer Review: Say Goodbye to Wrinkles and Creases
Introduction
If you are always on the go and hate wrinkled clothes, the OGHom Steamer is your best bet for wardrobe maintenance. The compact and portable device is designed to cater to your daily home and travel needs. Say goodbye to the traditional ironing board and welcome the easy-to-use handheld steamer.
First Impressions
The OGHom Steamer comes in an attractive black and white design with a soft-grip handle. After unboxing, I was pleasantly surprised by how lightweight it is, making it easy to hold for extended periods.The steamer comes with a detachable water tank that can hold up to 240 ml of water, two brush heads, a measuring cup, and a user manual. The device is compatible with tap water, but for better results, the manufacturer recommends using distilled water.
Usage
The OGHom Steamer is simple to operate. Fill the water tank with distilled water, attach the desired brush head, plug it in, and wait for it to heat up (approximately one minute). Then, point the steamer nozzle at the desired area and move it around slowly. The continuous steam flow will smooth out wrinkles and make your clothes look new.The device is safe for most fabrics, including delicate silk and cashmere. However, it may not be suitable for leather and suede materials.
Performance
The OGHom Steamer provides continuous steam for up to 15 minutes, which is impressive for a portable device. The steamer works efficiently, and I was amazed at how well it tackled deep creases and wrinkles. Additionally, the device doesn't leave any water stains, ensuring your clothes always look fresh.
Additional Features
The OGHom Steamer has a unique automatic shut-off function to prevent overheating and accidental burns. The device also comes with a long power cord, making it easy to move around while steaming.
Pros and Cons
Here are some benefits and drawbacks of the OGHom Steamer based on my experience:
Pros
Lightweight and portable design
Easy to use and operate
Compatible with most fabrics
Long power cord for easy maneuverability
Continuous steam for up to 15 minutes
Automatic shut-off function to prevent overheating
Cons
Small water tank that needs frequent refilling
Not compatible with all fabrics, including leather and suede
May not be suitable for heavy-duty steaming needs
Wrap Up
Overall, the OGHom Steamer is an excellent device for anyone looking to keep their clothes free of wrinkles and creases. It is compact, lightweight, and easy to use, making it perfect for both home and travel use. The device has a long power cord, automatic shut-off function, and continuous steam flow, ensuring your clothes always look clean and fresh. Say goodbye to traditional ironing methods and welcome the OGHom Steamer into your daily routine.
About Author