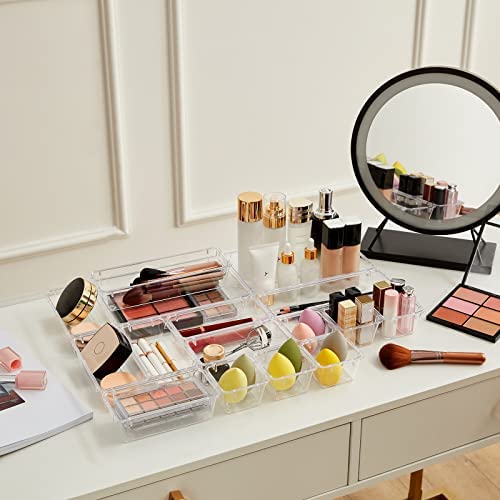 Lifewit Jewelry Organizer Review: Keep Your Jewelry Safe and Organized in Style
Are you tired of digging through tangled jewelry to find the piece you want to wear? Do you want to keep your precious jewels safe and organized? If so, you might be interested in the Lifewit jewelry organizer.
Description
The Lifewit jewelry organizer is made of high-quality PU leather and velvet lining. Its compact design allows you to store it in a drawer or carry it with you when traveling. It features nine compartments, including two removable dividers, to keep your jewelry separated and tangle-free.
Features
One of the standout features of this jewelry organizer is its versatility. You can use it to store earrings, necklaces, bracelets, rings, watches, and more. The compartments are customizable, so you can adjust them to fit your specific needs.Another great feature of the Lifewit organizer is its durability. The PU leather is water-resistant and easy to clean, so you don't have to worry about spills or stains. The velvet lining provides extra protection for your jewelry, keeping it from scratching or tarnishing.
Design
The Lifewit jewelry organizer has a sleek and stylish design that would look great on any vanity or dresser. It comes in two colors: black and gray. The gold-tone hardware adds a touch of elegance to the overall design.The organizer has a snap closure that keeps your jewelry secure while in transit. It also has a handle on top, making it easy to carry with you on the go.
Size
The Lifewit jewelry organizer measures 10.2 x 8.9 x 2.6 inches, making it the perfect size to store in a drawer or suitcase. It's small enough to be portable but large enough to hold all your essential jewelry pieces.
Usability
One of the best things about the Lifewit jewelry organizer is its ease of use. The compartments are clearly labeled, so you can quickly find the piece of jewelry you're looking for. The removable dividers make it easy to adjust the size of the compartments to fit your specific needs.The compact design of the organizer also makes it easy to take with you when you travel. You can store it in your luggage, or simply carry it with you to ensure your jewelry stays safe and organized.
Pros
– Versatile design allows for customization- Durable PU leather is water-resistant and easy to clean- Velvet lining protects jewelry from scratches and tarnishing- Sleek and stylish design looks great on any vanity or dresser- Portable size makes it easy to travel with- Clear labeling and easy-to-adjust compartments make it user-friendly
Cons
– The organizer may not be big enough for larger jewelry pieces- The compartments may be too small for those with a lot of jewelry- The price point may be a bit higher than some other jewelry organizers on the market
Conclusion
Overall, the Lifewit jewelry organizer is a great investment for anyone who wants to keep their jewelry safe and organized. Its durable design and customizable compartments make it a versatile option that can accommodate a variety of jewelry pieces. Its compact size and portability make it great for travel. And its sleek and stylish design looks great on any vanity or dresser. If you're in the market for a new jewelry organizer, the Lifewit organizer is definitely worth considering.
About Author