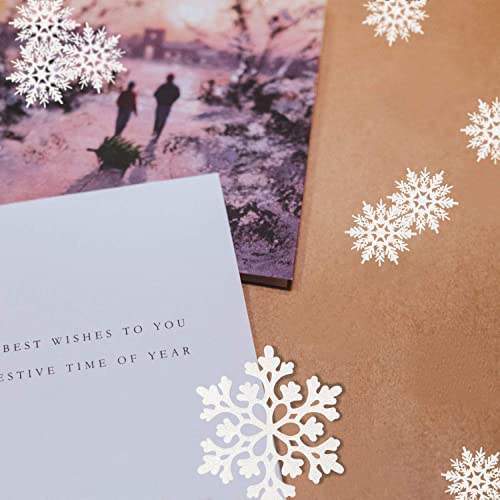 Kockuu Snowflakes: The Perfect Addition to Your Christmas Decor
As the holiday season approaches, it's time to start thinking about how to spruce up your home with festive decor. Adding Kockuu Snowflakes to your Christmas decorations is the perfect way to create a winter wonderland inside your home. These handmade snowflake ornaments bring a touch of elegance and charm to any home during the holidays.
Quality and Design
When it comes to decorating for Christmas, the quality and design of the ornaments are essential. Kockuu Snowflakes are made with high-quality materials and are designed with attention to detail. Each snowflake ornament is crafted with precision to ensure that it looks beautiful and adds a touch of sophistication to your Christmas tree, wreath, or garland.
The snowflakes are handmade with a combination of felt and burlap fabric. The felt provides a soft and cozy texture, while the burlap adds a rustic and natural touch. The combination of these two materials creates a unique aesthetic that will complement any Christmas decor theme.
Easy to Hang
Kockuu Snowflakes come with a pre-attached string, making them easy to hang on your tree, wreath, or garland. The string is durable and strong, so you don't have to worry about the snowflake falling off or getting damaged.
The snowflakes are also lightweight, so you can hang them without worrying about them weighing down your tree or wreath. This feature makes them a perfect addition to any Christmas decoration setup, whether you have a small tabletop tree or a large, elaborate one!
Versatile Use
Kockuu Snowflakes are not limited to just Christmas tree decoration; you can use them in many ways to dress up your home this holiday season. For instance, you can hang them on your fireplace mantel, on your staircase railing, or use them as part of a centerpiece display.
The snowflakes' neutral color scheme also ensures they will complement any color scheme you have for your home. Whether you prefer cool blues or warm reds, the snowflakes will blend in seamlessly with your other holiday decorations.
Gift Giving
Kockuu Snowflakes make a thoughtful and unique Christmas gift for friends or family members. These ornaments are handcrafted, making each one a unique piece of art. You can give them as individual gifts or purchase a set to give as a present.
The snowflakes also come in a lovely storage box, making them easy to pack and give as a gift. The receiver of the present will be delighted when they receive this charming and elegant ornament.
Customer Reviews
Customers who have purchased Kockuu Snowflakes have expressed their satisfaction with the product. They have left glowing reviews, stating that the snowflakes are well-made, beautiful, and add a touch of elegance to their holiday decor.
One customer stated that the snowflakes are "beautifully crafted" and "add the perfect touch of elegance to a Christmas tree." Another customer stated that "these are the most beautiful snowflakes I have ever seen and are well-made with high-quality materials."
Conclusion
If you're looking for a unique and elegant addition to your Christmas decorations this year, Kockuu Snowflakes should undoubtedly be on your list. These handmade ornaments are made with high-quality materials, easy to hang, versatile, and come with excellent customer reviews. Add a touch of charm and sophistication to your holiday season by purchasing Kockuu Snowflakes today.
About Author