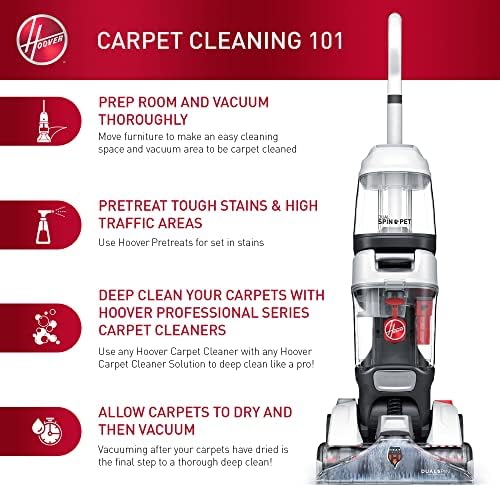 Hoover Carpet Cleaner Machine FH54050V Review
Introduction
Welcome to our comprehensive review of the Hoover Carpet Cleaner Machine FH54050V. In this detailed analysis, we will explore the features, performance, and overall value of this highly regarded cleaning machine. Whether you are a homeowner looking to refresh your carpets or a professional cleaner in need of a reliable and efficient tool, this review will assist you in making an informed purchase decision.
Overview
The Hoover FH54050V is a powerful carpet cleaner machine that combines advanced cleaning technology with user-friendly features. Designed to tackle even the toughest stains and dirt, this machine promises to revitalize your carpets, leaving them looking and feeling like new.
Key Features
Let's delve into the key features of the Hoover FH54050V:
1. SpinScrub Brush System
The Hoover FH54050V is equipped with a SpinScrub brush system that gently but effectively agitates the carpet fibers, loosening dirt and stains. With its 360-degree cleaning action, this brush system ensures a thorough and deep clean.
2. Dual Tank System
Unlike some carpet cleaners that use a single tank for both clean and dirty water, the Hoover FH54050V features a convenient dual tank system. This design separates the clean and dirty water, providing optimal performance and easy maintenance.
3. Clean Surge Control
The Clean Surge feature of the Hoover FH54050V allows you to apply an extra boost of cleaning solution to tackle stubborn stains and high-traffic areas. Simply press the button during cleaning to activate this powerful surge of cleaning power.
4. Large Capacity Tanks
The clean water tank has a 1-gallon capacity, while the dirty water tank can hold up to 1.5 gallons. This larger capacity reduces the frequency of emptying and refilling, allowing you to clean larger areas without interruption.
5. HeatForce Technology
Hoover's HeatForce technology delivers hot air directly onto the carpet, speeding up the drying process. This feature helps prevent mold and mildew growth while allowing you to enjoy clean and dry carpets in a shorter amount of time.
6. Automatic Detergent Mixing
With the Hoover FH54050V, you won't have to worry about measuring and mixing detergent manually. The machine automatically mixes the cleaning solution for the optimal cleaning ratio, ensuring effective and consistent cleaning results.
7. Upholstery Cleaning Tools
Included with the Hoover FH54050V are various attachment tools specifically designed for upholstery cleaning. These tools allow you to easily clean stairs, furniture, and other hard-to-reach areas, expanding the versatility of this machine.
Performance
The Hoover FH54050V excels in performance, consistently delivering exceptional cleaning results. The SpinScrub brush system effectively agitates the carpet, while the powerful suction removes dirt and excess water, leaving your carpets looking revitalized.
Efficiency
The Hoover FH54050V is designed for efficiency, allowing you to clean your carpets quickly and effectively. The large tank capacity reduces the need for frequent emptying and refilling, saving time and effort during cleaning sessions.
User-Friendly Design
The Hoover FH54050V features a user-friendly design with intuitive controls and easy-to-reach buttons. The handle is ergonomically designed for comfort, and the machine's compact size ensures hassle-free storage.
Value for Money
When it comes to value for money, the Hoover FH54050V is an excellent investment. Its advanced features, reliable performance, and durable construction make it a worthwhile purchase for both residential and commercial use.
Longevity
Designed with durability in mind, the Hoover FH54050V is built to withstand regular use and provide years of reliable service. The high-quality materials used in its construction ensure longevity, making it a wise long-term investment.
Pricing
Considering its performance and features, the Hoover FH54050V is competitively priced, offering excellent value for money. It provides professional-grade cleaning results without the premium price tag, making it an attractive option for budget-conscious consumers.
Customer Reviews
Let's take a look at what customers have to say about the Hoover FH54050V:
"Great Cleaning Power!" – Jane H.
I purchased the Hoover FH54050V to deep clean my carpets before hosting a party, and I was amazed by its cleaning power. It effortlessly removed years of dirt and stains, leaving my carpets looking fresh and vibrant. Highly recommended!
"Efficient and Easy to Use" – Mark W.
I've been using the Hoover FH54050V in my professional cleaning business for several months now, and I'm extremely satisfied with its performance. It's efficient, easy to use, and provides consistent cleaning results. The upholstery attachment tools are also a great addition. A fantastic machine overall!
"Quick Drying Time" – Sarah M.
I was pleasantly surprised by how quickly my carpets dried after using the Hoover FH54050V. The HeatForce technology works like a charm, and I didn't have to wait for hours to walk on my freshly cleaned carpets. Definitely worth every penny!
Conclusion
In conclusion, the Hoover Carpet Cleaner Machine FH54050V is a top-notch cleaning tool that delivers outstanding performance, convenience, and value for money. With its advanced features and user-friendly design, it is suitable for both residential and commercial use. If you're looking to refresh your carpets and achieve professional results, the Hoover FH54050V is an excellent investment that won't disappoint.
About Author