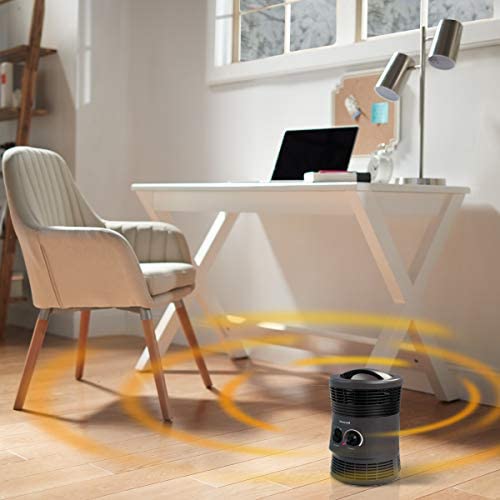 Honeywell HHF360V 360 Degree Surround Fan Heater
The Honeywell HHF360V is a fantastic investment for anyone who wants to keep their space warm and cozy during the winter season. This fan heater is designed with a 360-degree surround feature to ensure that the entire room is heated evenly, making it an ideal choice for people who desire quick and convenient warmth.
Product Description
The Honeywell HHF360V fan heater is a powerful and reliable device that's packed with an array of great features. It's a sleek, compact and stylish-looking unit that's perfect for small to medium-sized rooms measuring up to 200 square feet.The fan is made of high-quality materials, which assures durability and longevity regardless of how frequently you use it. The unit has a built-in safety mechanism that automatically shuts off the heater when it falls over, making it an ideal choice for families with children or pets.The HHF360V also has adjustable temperature settings that allow you to select from low (750W) or high (1500W) heat, and a fan-only mode, giving you the flexibility to either use it as a supplemental warming source or as a stand-alone device.
360-Degree Surround Heating
One of the best features of the Honeywell HHF360V fan heater is its 360-degree surround heating feature. The heater's unique design ensures that heat is evenly distributed throughout the room, making it an ideal choice for large halls or rooms with high ceilings.Unlike conventional heaters that blow hot air in only one direction, this model uses an advanced heating mechanism that spreads warmth across a wide area, making it more energy-efficient and cost-effective.Whether you're reading, watching a movie, or working, you can always feel comfortable and relaxed, knowing that the Honeywell HHF360V is keeping you warm and cozy.
Compact Size and Portability
Unlike traditional heaters that are heavy and cumbersome, the Honeywell HHF360V is lightweight, compact and portable. It measures just 8.7 x 7.2 x 14.2 inches and weighs a mere 4.74 pounds, making it easy to move from room to room or store away when not in use.This makes it a great space-saving option for anyone who lives in an apartment, dorm room, or small home.Despite its compact size, it packs a powerful heating punch that quickly warms up the surrounding air. Whether you want to get cozy on the couch or work in your home office, the HHF360V has you covered.
Quiet Operation
One of the most annoying things about traditional heaters is the loud, irritating noise they make when in use. The Honeywell HHF360V overcomes this problem with its whisper-quiet operation, making it ideal for use in bedrooms, offices, or living rooms.The unit's quiet mode will ensure that your sleep or work is not disturbed as it delivers comfortable warmth throughout your space.
Adjustable Thermostat
The Honeywell HHF360V is easy to use with its adjustable thermostat. It has two heat settings that you can quickly adjust to control the temperature in your room. You also have the option of using its fan-only mode, which allows the device to function as a cooling fan.Crafted with precision, this heater allows you to customize your indoor climate with much ease and precision, making it simple and easy for you to ensure that your space is heated or cooled to your desired temperature.
Multiple Safety Features
Safety is always a top priority for Honeywell. As such, they have included several safety features in the HHF360V to ensure maximum safety for users.The heater is designed to automatically shut off when it tips over, ensuring that there's no risk of a fire or other safety hazards. The device is also equipped with overheat protection, which automatically shuts off the heater when it reaches a high temperature, making it highly safe for both you and your family.
Fan Heater with Oscillation Feature
The Honeywell HHF360V is a great heater for efficient heating because of its oscillation feature. Unlike other heaters that only heat up one area of the room, the HHF360V oscillates 360 degrees, ensuring that heat is distributed evenly around the room.This feature ensures that everyone in the room can enjoy the warmth without having to huddle in one small area. It's a great way to keep everyone in the room comfortable and prevent any cold spots from developing.
Easy to Clean
The Honeywell HHF360V is incredibly easy to clean. The exterior of the heater can be wiped clean with a damp cloth. The device also has a removable and washable air filter that traps dust, dirt, and pollutants, preventing them from circulating in your room.A clean air filter helps ensure that you breathe in cleaner, healthier air, and prevents the buildup of allergens and other harmful microorganisms in your room.
High-Quality Design
The Honeywell HHF360V is a state-of-the-art device that's designed to offer maximum comfort and convenience in a compact size. This unit has a robust construction and comes with quality components, which assure you of its high-quality craftsmanship and long-lasting durability.With a sleek and stylish design, that unit is bound to be a centerpiece in any room it's placed. Its charcoal accents add to the sophistication of the design, further making it a preferred choice for people who love style and elegance.
Energy-Efficient Heating
One of the best things about the Honeywell HHF360V is its energy efficiency. Its efficient heating elements quickly and effectively warm up your room, allowing you to save on your energy bills.Unlike other conventional heaters that take time to heat up and consume lots of energy, the high-quality fan in the HHF360V delivers warmth that works quickly and efficiently.This makes it an ideal option for people who want to keep their energy bills low while enjoying the warmth and comfort that the heater offers.
Perfect for All Seasons
The Honeywell HHF360V is a versatile device that can be used for all seasons. Whether you want to beat the cold weather during winter or stay cool during summer, this device has got you covered.With its fan-only mode, you can use it to circulate cool air during hot summer months, ensuring that you feel comfortable and relaxed during the warm weather.Overall, this versatile and powerful heater is an excellent investment that can help you stay warm and comfortable throughout the year.
In Conclusion
The Honeywell HHF360V is a fantastic heater that offers a wide range of features, making it an ideal choice for people who desire warmth and comfort in their space.This device boasts advanced features such as 360-degree surround heating, oscillation, and fan-only mode, which work together to generate and distribute heat evenly throughout your space.With its adjustable thermostat, multiple safety features, quiet operation, and energy efficiency, this heater is perfect for people who want a cost-effective and reliable heating solution.We highly recommend the Honeywell HHF360V fan heater to anyone who desires high-quality heating and fan experience in a compact size. Grab yours today and enjoy a warm, cozy, and comfortable environment every day!
About Author