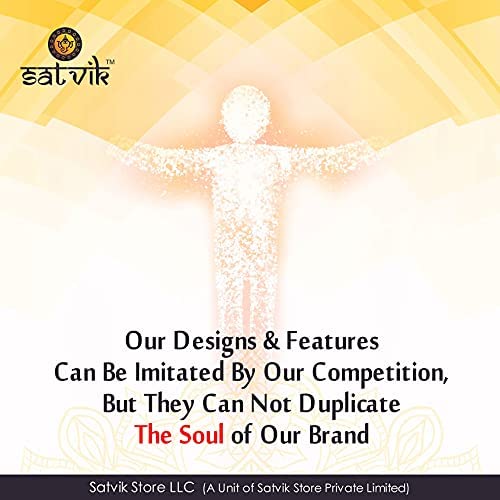 Exclusive Brass Copper Lotus Diya for Divine Worship
Introduction
If you're searching for an exquisitely crafted brass copper lotus Diya for your daily worship, then look no further than this beautiful creation from SATVIK. This stunning Diya is designed to radiate your home with divine energy, creating a tranquil atmosphere that promotes inner harmony and peace.
Description of the SATVIK Brass Copper Lotus Diya
This SATVIK Brass Copper Lotus Diya is carefully crafted using traditional methods, resulting in an intricately detailed design that is sure to impress even the most discerning of customers. The Diya is made from premium quality brass and copper, ensuring that it will stand the test of time and retain its luster for years to come.
Features of the SATVIK Brass Copper Lotus Diya
– Intricate lotus design – Premium quality brass and copper construction – Ideal for daily worship – Can be used for meditation and spiritual practices – Comes with a brass chain for easy hanging
Benefits of Owning a SATVIK Brass Copper Lotus Diya
The benefits of owning a SATVIK Brass Copper Lotus Diya are plentiful. This Diya is designed to bring peace, tranquility, and serenity to your home and your heart. As you light the Diya, you'll feel an instant sense of calm as the flickering flame illuminates your surroundings with a warm, golden glow.
Spiritual Significance of the Lotus
The lotus is an important symbol in many spiritual practices and religions, representing purity, enlightenment, and new beginnings. By incorporating this lotus design into your daily worship, you'll be inviting these auspicious qualities into your life, promoting personal growth and spiritual evolution.
Perfect for Meditation and Prayer
This SATVIK Brass Copper Lotus Diya is also ideal for meditation and prayer. As you sit in front of the Diya, you can focus on the flickering flame, allowing it to guide your mind into a state of deep meditation. The warm glow of the Diya can also serve as a reminder of the divine presence, helping you to connect with your higher self and the world around you.
Care Instructions
To ensure that your SATVIK Brass Copper Lotus Diya retains its luster and beauty, it is important to care for it properly. After use, clean the Diya with a soft cloth to remove any wax residue. Avoid using harsh chemicals or abrasive materials, as this can damage the delicate design.
Final Thoughts
Overall, the SATVIK Brass Copper Lotus Diya is a stunning piece that is sure to add a touch of elegance and spirituality to any home. It's perfect for daily worship, meditation, and prayer, providing a sacred space for you to connect with your inner self and the divine. With its intricate lotus design and premium quality construction, this Diya is truly a work of art.
About Author