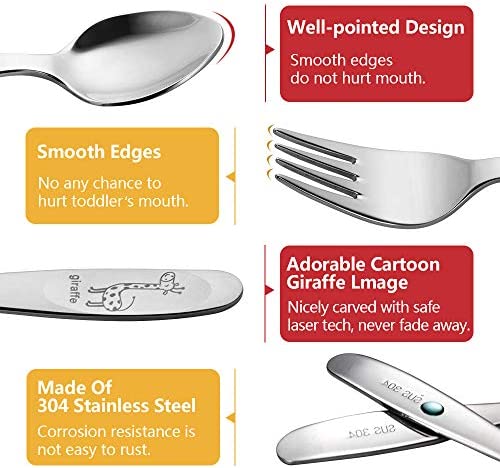 BLUEWIND Stainless Toddler Flatware for Preschools – The Best Way to Teach Your Child Good Eating Habits
Introduction

Feeding toddlers is messy and important for their development. This is the time when you can teach your child healthy eating habits and table manners. The BLUEWIND Stainless Toddler Flatware is a great choice for preschoolers.
Design and quality


The BLUEWIND Stainless Toddler Flatware is made for little hands. It includes a fork with round tines, a spoon with shallow bowl and a knife that is not too sharp. The handles are easy-to-grip and made from food-grade stainless steel, which is safe for your child.
Functionality


Flatware is ideal for children between 2 and 5 years of age. It is lightweight, durable, and easy-to-use. It can be washed in a dishwasher, making it easy for you to clean up after meals. Flatware can be used at home, daycare centers, and preschools.
Benefits


There are many benefits to using the BLUEWIND Stainless Toddler Flatware Preschools. Your child will be able to eat on their own, which will help develop fine motor skills. Flatware is great for picky eaters because it encourages them try new types of food.
Features

Flatware sets include a spoon, knife, and fork. Children will love the cute animal prints on the handles. Flatware is made from safe and durable stainless steel to ensure it lasts a long while.
Pros and cons


Pros:

Handles that are easy to grip
Durable and light weight
Dishwasher safe
Encourage independence in eating
Ideal for picky eaters.

Cons:

The knife is not very sharp.
Over time, the animal prints might fade.
Only three pieces are included in the set.
Conclusion


Parents who want to teach their children good eating habits and table manners should have the BLUEWIND Stainless Toddler Flatware. The flatware is safe and durable and suitable for children ages 2-5 years old. Get yours today to make feeding time easier for you and your child.