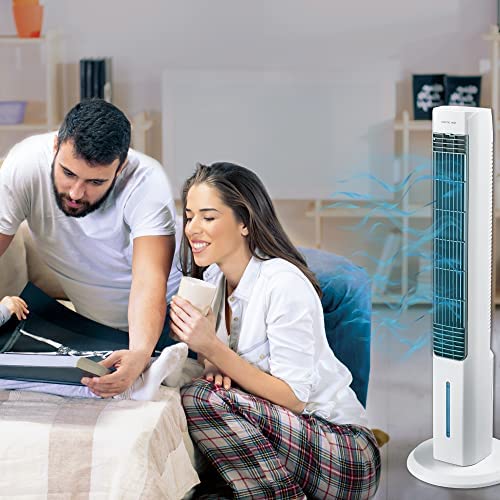 Arctic Air Tower Evaporative Cooler Review – An Effective And Affordable Cooling Solution
Are you tired of having to deal with hot, stuffy environments that make it difficult to live or work comfortably during the summer months? The Arctic Air Tower Evaporative Cooler might be the solution for you.
What Is An Evaporative Cooler?
An evaporative cooler is a type of air conditioner that cools the air by evaporating water into it. This technology has been in use for many years and is especially popular in arid climates where humidity is low.
The Arctic Air Tower is an affordable and portable evaporative cooler designed for home or office use. It works by pulling in warm air through its filter, then cools and humidifies the air using evaporative technology before releasing it back into the room.
Effective Cooling Performance
The Arctic Air Tower is capable of cooling a small to medium-sized room within minutes. It can bring the temperature down by up to 15 degrees Fahrenheit, providing you with a comfortably chilled environment to live or work in.
The cooler has three fan speeds to choose from, allowing you to adjust the cooling intensity according to your preferences. You can also use it as a regular fan without the cooling function.
Easy to Use and Maintain
The Arctic Air Tower is effortless to use and requires minimal maintenance. All you need to do is fill the water tank with tap water, plug it in, and turn it on. The cooler's energy-efficient motor uses very little electricity, so you don't have to worry about high electricity bills.
To maintain your Arctic Air Tower, you need to replace the filter every two to three months, depending on usage. The filters are cheap and readily available online or at your local hardware store.
Portable and Space-Saving Design
The Arctic Air Tower is designed with portability and space-saving in mind. It has a compact and lightweight design that makes it easy to move from room to room. You can also fit the cooler conveniently in small spaces, such as on a desk or a nightstand.
The cooler also has an adjustable air vent that allows you to direct the airflow in your desired direction. You can choose to have it oscillate left to right, or set it in a fixed position.
Low-Noise Operation
The Arctic Air Tower operates quietly in the background, making it the perfect choice for bedrooms, nurseries, and offices. It produces a noise level that is comparable to a low hum, making it easy to sleep or concentrate while the cooler is running.
Effective Humidification
The Arctic Air Tower also provides effective humidification, which is especially beneficial for people with dry skin, allergies, and respiratory problems. It adds moisture to the air, making it more comfortable to breathe and preventing dry air-related health issues.
Affordable and Long-Lasting
The Arctic Air Tower is an affordable cooling solution that is built to last. It is made of high-quality materials that are durable and resistant to wear and tear. The cooler comes with a one-year warranty, ensuring that you can enjoy cool and comfortable air without worrying about maintenance or repairs.
Final Thoughts
The Arctic Air Tower is an effective and affordable cooling solution that is perfect for anyone looking to beat the summer heat without breaking the bank. It is easy to use and maintain, and its portable design makes it ideal for use in small spaces and on the go.
If you're tired of dealing with hot and stuffy environments, the Arctic Air Tower is a must-have appliance that is sure to make your life more comfortable and enjoyable. Try it today and experience the difference for yourself!
About Author